Outdoor kitchens are all the rage these days, with more and more households choosing to renovate their patios or deckings into spaces to prepare and eat food. An outdoor kitchen setup can add a lot of value to your home, but you need to approach it in the right way. If you make a meal of things you'll only have a small step up from a disposable barbecue, rather than the perfect garden restaurant that you deserve on a sunny summer's evening.
We've put together this article to give you some guidance on planning an outdoor kitchen, along with some layout ideas and absolute must-haves to ensure that you can cook and serve up plenty of delicious meals in comfort and style.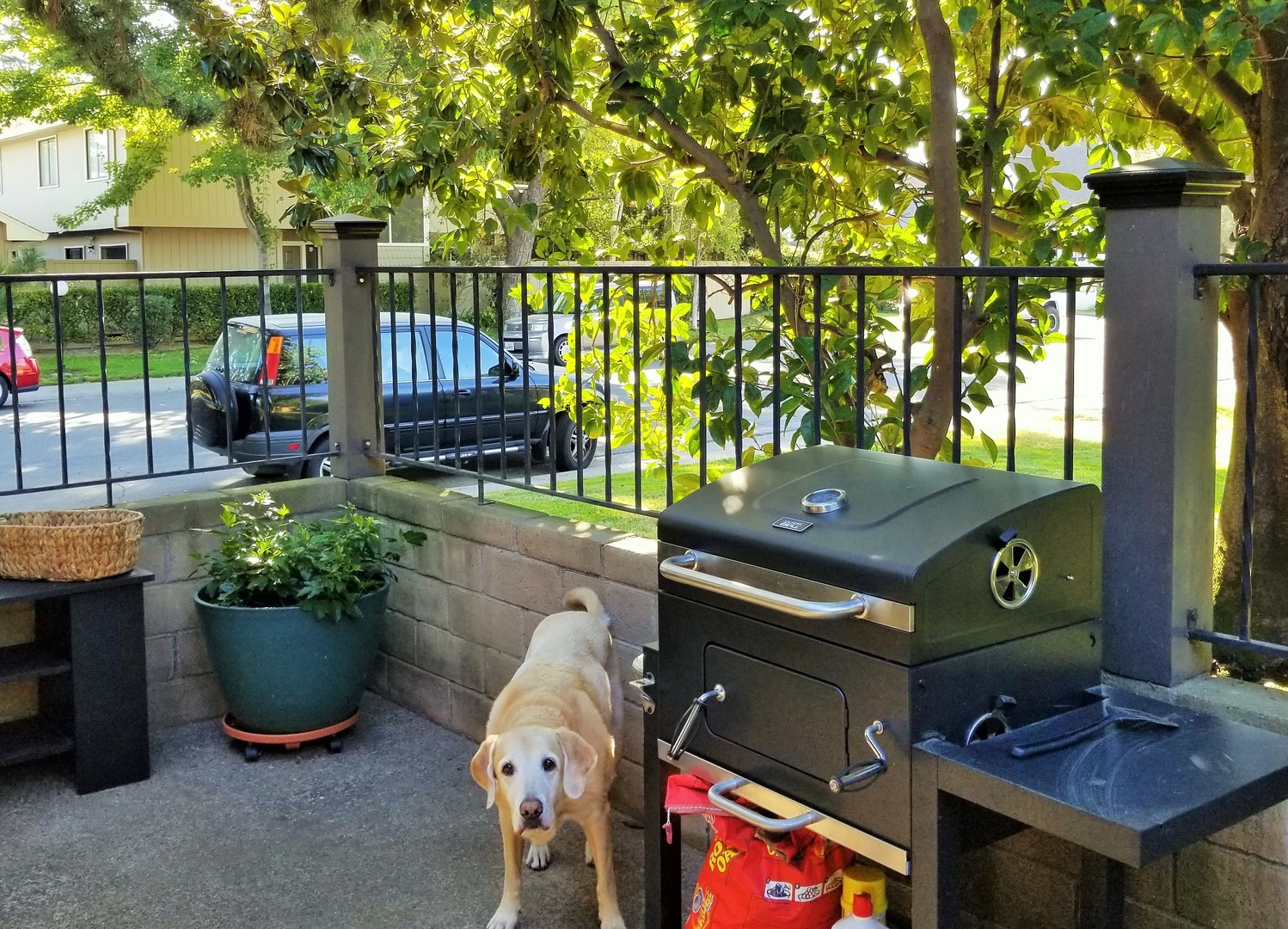 Outdoor Kitchen Planning
When it comes to planning an outdoor kitchen there are plenty of tools and resources that you can use to make sure that you get things properly in place before embarking on the build. There are plenty of lists from design publications that you can find online, such as this article that offers 36 principles and suggestions for building your kitchen space.
Some of our favorite takeaways from this particular list include:
●Consider exactly what you're trying to use the kitchen space for – This will give you a good foundation in knowing where to start in terms of layout, elements, and overall vibe.
●Keep herbs and plant life nearby – Fresh herbs are great for cooking with and plant life will help to keep a positive, energetic atmosphere around your kitchen space.
●Don't forget a good drinks fridge – Pair this with a good bar island nearby and you'll turn the kitchen into more of a social space for cocktails, beers, and more.
●Keep a cover in place or shelter nearby for an all-weather solution – Don't let the rain ruin your plans, you should be able to cook up the goods regardless of the weather.
●Choose weatherproof materials to maintain the quality of the kitchen – Much like above, weatherproof materials will add lasting power and usability to your kitchen.
●Choose your spot carefully for the perfect setting – You need to make sure that you set things up in a comfortable place for functionality and flow.
The rest of the list mostly includes more specific design choices, but we'll get to that later.
Another trick of the trade that we suggest is using an online outdoor kitchen designer app, such as the free online tool from RTA Outdoor Living. With this, you can design your outdoor kitchen to a T by inputting your available space, considering your layout, choosing the elements that are right for you, and more. Along with this, some tools and services will also allow you to converse with design experts, to give you the extra guidance you need if you're not sure where to start.
Outdoor Kitchen Design: Cooking Choices
Before you start thinking about the look and feel of your outdoor kitchen, it's vital that you consider how much cooking you really want to get done there. If you're looking for just a summer hangout then perhaps a barbecue under a shelter might be enough, but on the other hand, if you're looking to make gourmet meals whatever the weather then a full hob system and prep space are what you need.
If you're looking to work on your culinary skills in your new outdoor space, you're in the right place. We've taken the liberty of providing some key tips and suggestions for the sake of achieving your cooking potential in the best outdoor kitchen for your needs.
Maintain Access to Plumbing and Power
One thing that's vital to a successful outdoor kitchen unit is good connections to your home's plumbing and power systems. To make the most of your kitchen you need running water, electricity, and if your house allows it, gas. If you can link your outdoor kitchen up to the mains of your house you won't have to rely on generators or external supplies, so you can keep things cooking consistently.
Get a Smoker
We've all got an old barbecue grill in the backyard, but if you're looking to create a true barbecue experience in your backyard, a grill/smoker hybrid is the only way to go. With one of these, you can cook up the perfect fall off the bone baby back ribs, do magical things with a big hunk of brisket, or even get classy with some hot smoked salmon. It may sound like a lot to invest in, but with inexpensive options like the choices from Big Green Egg you can set up your own backyard smoking station without breaking the bank.
Install a Pizza Oven
What's better for an evening with friends and family than a make your own pizza night? We'll wait… Pizza is the most popular food in the world for good reason, and having your own pizza oven for fresh pies in the garden is a perfect way to feed and entertain guests on a nice evening. Not only will this take your home pizza experiences a step up from deliveries and frozen supermarket fare, but it will also create great potential for fun and exciting social experiences.
Consider Your Prep Space
It's not all about the burning fires and heats being on, you also need to consider where you're going to chop the veg, season the meat, and dress the salad. Now, while you might not need as much prep space as you would in an indoor kitchen, a good concrete, tile, or granite countertop is a lovely way to give yourself the space you need to properly prepare food. Make sure to deck out this space with drawers, cabinets, and all the equipment you need to cook up a storm.
Outdoor Kitchen Design: Aesthetic and Lifestyle Choices
Along with being your external cooking space, designing an outdoor kitchen should also be about creating a social hub for enjoying the company of friends and family. The outdoor kitchen layout you choose will greatly affect your enjoyment of it as will the colors and visual features that you decide on, so it's important to get this part right.
To ensure you can have the best possible time in your outdoor kitchen space and feel as happy as possible with how it looks, we've put together some suggestions, tips, and tricks in terms of aesthetic and lifestyle choices.
Create a Seating Area / Dining Table
What good is a space to cook outdoors if you're not going to eat there as well? You have an indoor kitchen for that already! You should set up a nice dining/seating area so people can have a good space to eat, drink and be merry, offering your guests a hub to socialize and relax while they enjoy the delicious food you put together.
Consider Materials for Aesthetic
While functional materials are important, the materials you choose will also help to determine the look and feel of your space. Wooden kitchen cabinets are a classic and they can help to maintain a consistent vibe from the kitchen inside your house, but it's vital that they're kept under a sturdy shelter. Stainless steel is always a great choice, especially around the grill if you're looking for that barbecue style. Tiles are also a strong visual choice, creating a good easy-to-clean surface while also offering you plenty of options when it comes to color and patterns. Just consider your options and the atmosphere that suits you!
Use Your Space Wisely
You may think if your garden isn't particularly big an outdoor kitchen isn't an option, but it's not the case! With a smaller grill top, a miniature barbecue on wheels, and a smaller breakfast-style table, you can get plenty out of slightly less room. It's all about being smart with your space, not packing too much, and making the most of what you have.
Final Thoughts
When it comes to outdoor kitchen design, there are some very important choices for you to make. Are you going to showcase your culinary talents with classy cocktails or will it be a place for burgers and beers? Just make sure to consider things carefully, think about the outdoor kitchen must-haves (power supply, shelter, shared seating), and above all else, listen to your instincts. It's your space and you should treat it as such.
If you're setting up an outdoor kitchen on a deck or landing, you may need some fence posts to add a touch of stylish class. Check out our range to see all the styles and colors we have on offer and follow through on our site for technical and lifestyle blogs about the joys of a backyard lifestyle!