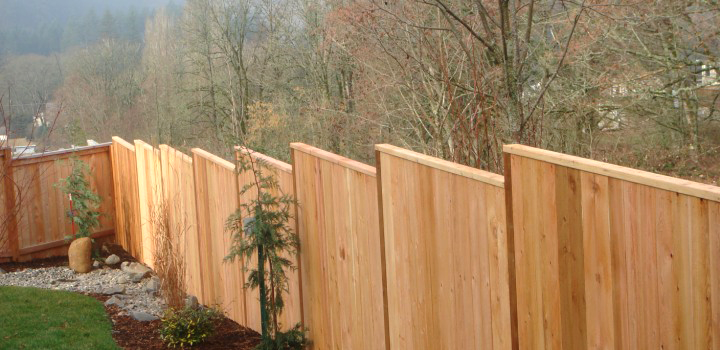 What's the Best Fence Material for You?
When you move into a new home or property, a garden or outdoor space can be a real selling point. However, in newer properties, or "fixer-uppers" if you will, there may be little to no fencing around said space, or alternatively, you may just want to give the garden a makeover with a new border. The same goes for fencing outside the front of your property, as it will be the first outward-facing aspect of your home that visitors and passers-by will see.
Before you begin renovating your outdoor spaces, you need to consider what kind of fence is going to suit your needs best, and it all starts with the materials. The different fencing options each have their own benefits and drawbacks when it comes to pricing, versatility, and functionality, while certain materials suit different styles far better than others. We put together this blog to break down common fence materials, their pros and cons, and the styles that they work well with so you can feel confident before beginning an installation.
The Different Fence Materials
There are a few common options when it comes to what your fences materials will be made up of, ranging from various forms of fencing wood, metal, and synthetics such as vinyl.
The most common forms of fence material include but aren't limited to:
●Redwood and Teak
Before you choose which material you're going to go with, it's important to understand the pros and cons of each individual choice.
Cedar Wood
Cedar is one of the most common choices when it comes to wooden fences, being considered a top choice when it comes to setting up the best privacy fence possible. Along with its great natural look, it also offers a lot in the way of functionality.
Pros and Features:
●Cedarwood has the natural quality of not warping and shrinking over time, even when exposed to the elements.
●As a wood, it's got a natural resistance to insects and decay, furthering its long-lasting quality.
●It's an easily customizable, DIY-friendly choice that can be arranged in a variety of styles and layouts that suit you.
Cons and Maintenance:
●Despite its natural resistances, cedar will still suffer from rot over time, especially if installed into soil, meaning a concrete base may be necessary for a long-lasting fixture.
●Over time, cedar will fade in color, eventually taking on a grayish tone, but this can be offset by applying a penetrating sealant when installed, and once a year going forward.
●Even with all their virtues, cedar fences will eventually need some TLC, in the form of replacing planks here and there.
Composite Wood
Composite fences are made from reformed wood fibers combined with plastic compounds and polymers, creating a natural wood aesthetic, with the added benefits of synthetic lasting power. In terms of fence styling, it works similarly to cedar being great for privacy fences.
Pros and Features:
●A stunning natural look reminiscent of a real wood fence, with no need for a sealant, just occasional washes with water.
●Composite is similarly versatile to cedar in the way that it can be laid out and arranged, allowing you to have some creativity.
●The synthetic compounds in composite woods give it a stronger resistance to insects and rot, meaning replacements due to natural degradation are unlikely.
Cons and Maintenance:
●The benefits of composite don't come without a cost, with this material being more expensive than other options like cedar and vinyl.
●Composite is not DIY-friendly, meaning you'll have to hire a professional to have it installed properly.
●Quality can vary, so you need to be sure you're making a purchase from a trustworthy source.
Redwood and Teak
Redwood and teak wood are considered by many to be the holy grail of wooden fences. They're both known for their gorgeous looks, being well-suited to privacy fences, much like Cedar or Composite woods, and often used in smaller enclosures, such as around hot tubs.
Pros and Features:
●Redwood and teak are both renowned and sought after for the subtle glow and soft aesthetic that defines them.
●Similar to cedar, redwood and teak each have a natural resistance against warping, decay, and shrinking from the elements, as well as insects.
Cons and Maintenance:
●With their status, redwood and teak also bring with them a hefty price tag, so don't expect to be putting up a fence with either of these woods on the cheap.
●Each of these woods will need to be treated with a penetrating sealant on installation and yearly going forward.
●Sanding prior to installation will also benefit these woods, protecting them against general wear and tear.
Treated Woods
Treated woods are essentially pieces of timber, such as cedar or other woods, that have been treated with chemicals or pressure for increased resistance to potentially damaging elements. Treated woods suit fences of all styles, including picket, privacy, paneled, and more.
Pros and Features:
●Treated woods have a stronger resistance against moisture and insects when compared to raw softwoods, meaning they can be installed directly into the soil.
●They offer a cheaper way to install a fence of any style, being an affordable and DIY-friendly choice for your backyard.
●If you buy a large supply of treated planks they're perfectly well suited to other structures, such as deckings, gazebos, and more.
Cons and Maintenance:
●Treated wood can come from woods of varying qualities, meaning it can easily bend, warp, or deform within a short period of time.
●For a reliable fence, you might want to select the planks you want treated personally at a lumber yard, choosing the wood that looks straightest and the least green.
●Treated wood doesn't look amazing on its own, so you might want to paint it, apply varnish, or cover it in some sealant for the right aesthetic.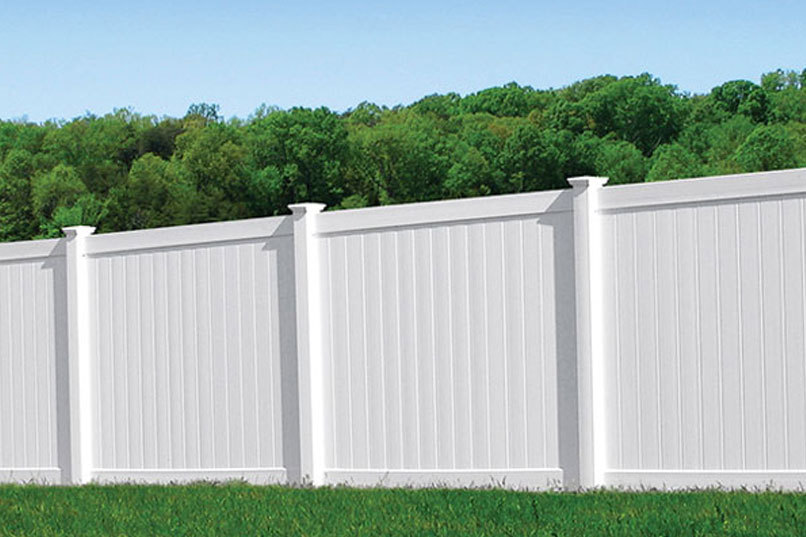 Vinyl
The first fully synthetic choice in this article, vinyl fences have come along leaps and bounds in the few decades since their initial appearance on the construction scene. Vinyl is well suited for use in paneled and privacy fences, but can also be used for any style.
Pros and Features:
●Vinyl, in particular, "virgin vinyl", can be highly durable, long-lasting, and available in a variety of sizes and thicknesses.
●Being synthetic, vinyl requires basically no major maintenance, being content with a simple wash when dirty.
Cons and Maintenance:
●Really cheap vinyl can have an unattractive yellow appearance, along with being weak and unstable, but this is relatively uncommon these days.
●Badly installed vinyl is a massive eyesore, so you will need a professional to come and set up your fence properly.
Metal
Metal fences differ from the wooden and synthetic options that we've looked at so far, coming in a bar format rather than in panels and planks. Metal fences generally cannot be used for maximum privacy, but they are considered a classic choice for a reason.
Pros and Features:
●With a good iron or aluminum make you'll have about the most durable fence possible, providing you with real long-lasting quality.
●While metal fences are generally limited to bar-based constructions, they can be formed into a variety of shapes, patterns, and even intricate pieces of art.
●Certain newer options with metal can be fairly DIY-friendly, saving you money on installations.
Cons and Maintenance:
●If you're interested in the most traditional, wrought iron construction of a metal fence, you'll likely need to hire a specialist at some cost.
●Certain metals, such as steel and wrought iron will require a coat of rust-resistant paint to maintain their aesthetic appeal.
What Now?
Now that you know your way around some of the common fencing materials, it's time to choose one and create the best fence for you. Whether you choose a wood variant, metal, or vinyl, it's important to remember that the best fences for your needs may not be the ones that cost the most, with versatility, cost, and maintenance levels all coming into play.
Once you've selected your fence material and style, perhaps it's worth considering adding even more visual appeal. At Atlanta Post Caps, we stock a wide range of fence post caps that can add a touch of class and character to the average, mundane fence post, doing wonders for the aesthetic while also potentially increasing your home's overall value.
To check out our range of fence post caps by type, click this link. Happy fencing! (not like that).