Summer is well and truly here, and that means more time that you can spend enjoying the sunshine in your backyard. But you might be a little hesitant to break out the sun lounger if your outdoor space is looking a little drab, be it due to a lack of wildlife or a deficit of comfortable outdoor furniture.
Whether you want an elaborate garden or a simple backyard, we've put together this list of 9 simple things you can do to breathe fresh life into your outdoor space this summer, so you can make the most of the sunshine while it's still here.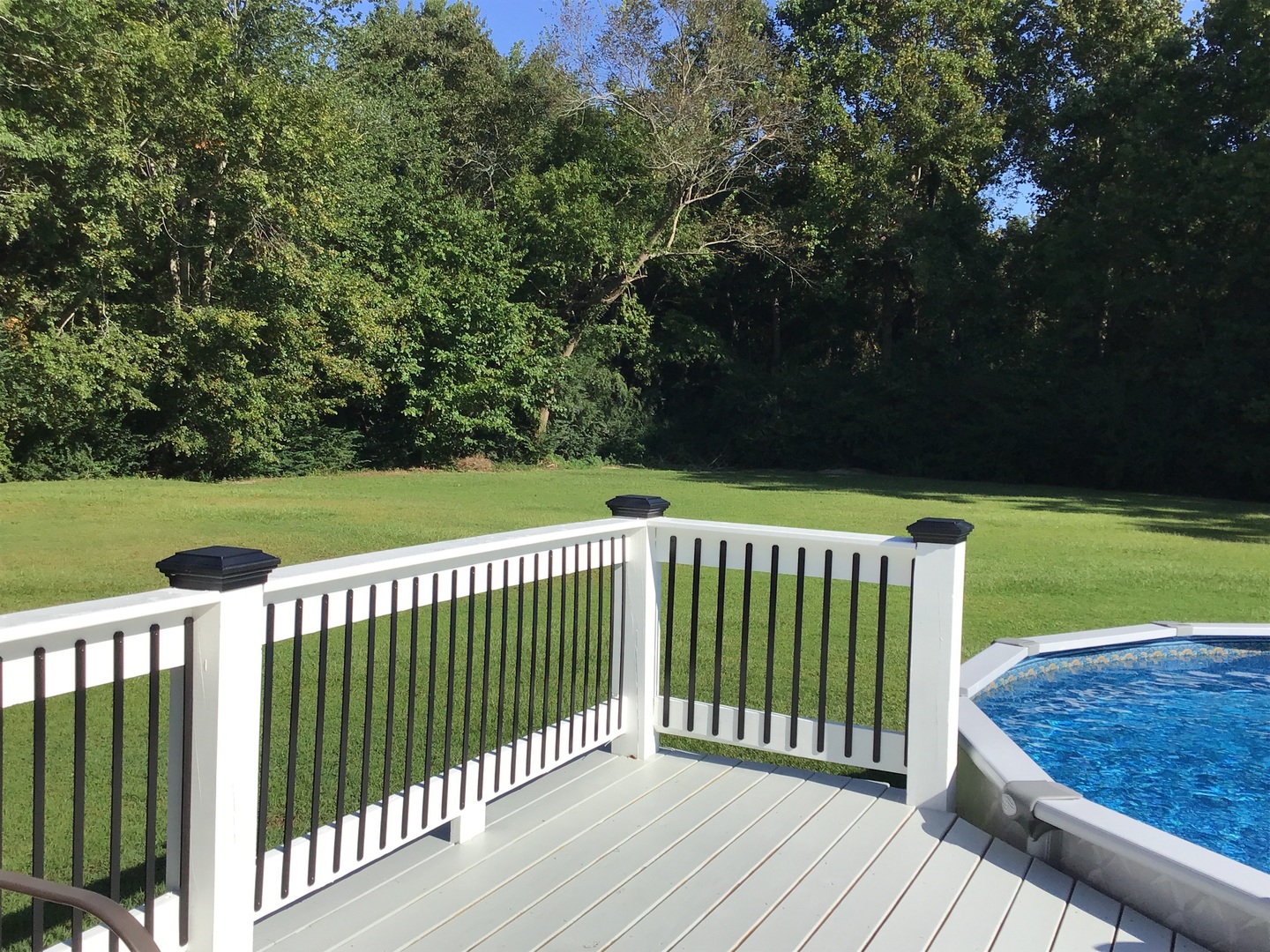 1. A Backyard Fence Makeover
Your fences are the border of your backyard, signposting the space that belongs to you while also offering some valuable privacy from neighbors and passers-by. But if your fences are looking a little worse for wear, it can greatly impact the overall look and feel of your outdoor space, bringing down the aesthetic value by association and proximity. The answer? A backyard fence makeover.
There are many ways that you can approach sprucing up the spruce that makes up your fence, with a fresh coat of paint or stain both being great choices, along with installing some new fence post caps. Any of these practices will help to make your fence look a little classier and generally kinder on the eyes.
2. Bring in a Firepit
Bringing a firepit to your garden is just a small backyard makeover tip that can have a massive influence on your enjoyment of the space moving forward. Summers are made of barbecues and drinking outdoor with family and friends, but even on the warmer nights of the season, it can get a little chilly once the sun goes down. By choosing a stylish firepit, you can keep your guests warm well into the night while also bringing in a fresh piece of decor.
This tip is also handy as a firepit can come in just as much, if not more, handy once the summer turns into autumn and etc. As long as it's not raining, there's always a joy in spending time socializing outside, and with the warming glow of a firepit, you can provide the light and heat necessary for everyone to be comfortable all year round (with limits of course).
3. Wildlife Feeders
This tip is great if you're embarking on a wider backyard ecosystem project, as it can bring a wider variety of animal life into your space, while also offering you the unique opportunity to observe natural processes taking place. With a nice bird feeder, squirrel feeder, or even butterfly feeder in your backyard, you can expect to see your garden space transform into a sanctuary for a wider variety of wildlife.
Along with purchasing new feeders, there are plenty of ways that you can make them yourself in the spirit of recycling and being eco-friendly, including repurposing an old slinky, plastic bottles, or even making feeding bowls from old orange peels.
4. Level Up Your Patio Game
Whether you already have a patio or need to install one, it's a great venue for all sorts of backyard antics. The patio can be the home to your outdoor drinks, dinners, or barbecues, along with simply offering you a space to relax in the sun with a good book. From your taste and lifestyle, there are countless social and cozy patio ideas that can be generated, and there's no rule that says it can't be enjoyed in more ways than one!
The important thing is choosing the right materials for you that will be functional, ensuring both functionality and aesthetic value stay front and center with your design. Similarly, populating your patio with the right furniture or even a good pergola will make all the difference when it comes to its purpose and what it will be used for in the future.
5. Flower Bed Makeover
Flowers are a stunning addition to gardens, bringing pops of color and life, along with stunning scents and aromas to your outdoor space. But if your garden is lacking on the flower front overall, or could have simply had the same flowers in place for a number of years now, giving your flower bed the makeover it deserves will help to bring your entire garden into the present day.
It may sound like a lot of work to maintain, but there are plenty of choices when it comes to gorgeous flowers that are very easy to grow and will inject a real sense of new life and vitality into your garden. Along with the aesthetic value of flowers, they'll also attract more wildlife in the form of pollinators, which in itself can do wonders for the environment.
6. Create an Edible Garden
In keeping with the theme of integrating more natural life into your outdoor space, bringing in your own fruits and vegetables is a highly effective way to enact your garden overhaul. Growing your own food in the garden has so many benefits, from providing new and exciting vegetation for you to enjoy the looks and smells of to offering you a plethora of healthy and delicious options for snacking and cooking.
The degree to which you create your edible garden space is up to you, with there being plenty of options big and small that you can approach. Whether you choose to set up a small patch for fresh herbs, a medium area for salad tomatoes, or even a fully-fledged space for veggies, we think growing your own food is one of the best backyard projects that a person can undertake.
7. Build/Buy/Install a Pool!
Nothing says fun in the sun like a pool party, which is why we consider bringing a swimming pool into your backyard to be one of the best garden renovation projects for giving your space a new identity. Just picture it now: you're floating in your very own private pool, drink in hand, surrounded by happy friends and soaking up the sunshine without a care in the world. This is the perfect way to make every afternoon at home feel like a little staycation.
There are plenty of ways that you can approach bringing a pool, whether you choose to build an above-ground decking hybrid, bring in a larger above-ground pool that you can pack up and set up again with ease, or install an in-ground pool directly into your patio space. Regardless, it's one of the most refreshing options for rejuvenating your backyard.
8. Synthetic Turf
This one isn't for everyone, but for those who are very particular about aesthetics, without having masses of time for maintenance, synthetic turf can be one of the handiest and easiest backyard makeovers to put into action. With synthetic turf, you can say goodbye to mowing and watering the lawn and say hello to perfectly pristine "grass" every single day.
Some aren't fond of the unnatural aspect of a synthetic lawn, but with this, you can still create spaces in your backyard that are totally full of life and natural energy. Surrounding your synthetic turf with patches for flowers and vegetables is a great way to maintain your connection to your garden while saving yourself the time it takes to keep a traditional grass lawn looking as good as possible.
9. Build an Outdoor Kitchen
If you love barbecues but want to take things up another step, building a state-of-the-art outdoor kitchen is one of the best backyard makeover ideas that we can suggest. Best paired with a well-considered outdoor dining space, we consider building a dedicated area for the preparation and serving of food to be a brilliant way of increasing the liveliness of your backyard in the summer months.
There are a few things you need to consider, such as access to power sources, shelter, and the degree to which you want to install technology, along with the kind of food you want to be able to prepare in the space. But either way you approach it, from pizza ovens to fully functioning flat-tops, outdoor kitchens can provide you with a quick, fun, exciting way to serve food to friends and family.
So now that you've reviewed this list of backyard makeover ideas, hopefully, you'll feel more confident moving forward with your garden renovations this summertime! Visit the rest of our blog for more interesting and useful articles on having the best outdoor lifestyle you possibly can. Happy designing.