7 Ways to Transform Your Backyard or Deck Into the Perfect Entertaining Space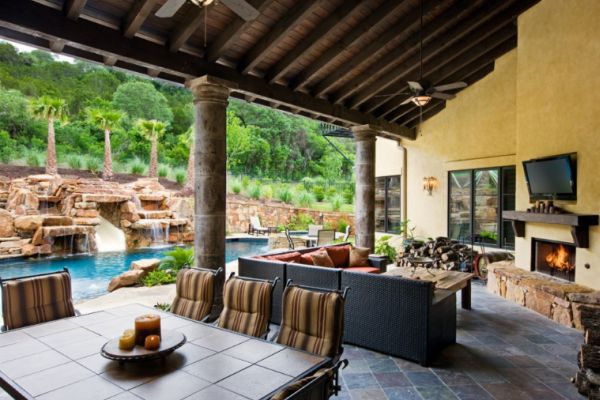 It's already January, which means you have less than three months to get your outdoor living space ready for guests. If you have a deck, you're already halfway there; a well-decorated and designed deck can be the difference between a dull and forgettable backyard and a delightfully cozy and fun hangout your guests will never want to leave.
If your deck is in desperate need of some action and attention, we've compiled a list of seven fun and themed backyard entertainment ideas you can use to decorate your outdoor living space around for a memorable year this coming Spring and Summer.
There's so much you can do to elevate the space. Whether you choose to install new furniture and lighting on your deck or populate your backyard with fun activities and games for the afternoon and the evening, there's bound to be something here that gives you the inspiration you need to create an outdoor living space perfect for your home and loved ones.
Keep reading to figure out how to transform your backyard or deck for the warmer months!
Bonfire and S'mores
Bonfire hangouts are ideal in the Spring when the days are warm and the evenings are still a bit nippy. Not too cold that it's miserable to be out in, but just enough that a cozy fire hits the right spot. They're perfect to extend the life of your backyard as it gives you the perfect excuse to entertain in the early Spring and late Fall when it might be too chilly outside otherwise. You can opt for an above-deck fireplace and wooden furniture for a more rustic feel or embed one directly into the ground surrounded by comfortable, lounge furniture for a more relaxing experience. There's nothing quite like sipping wine, making s'mores, and roasting hotdogs while cozied up underneath the stars and surrounded by your loved ones.
Host a Cookout
Hosting a cookout is an easy way to get people to come around. After all, everyone loves good food, and having a dedicated cooking space only elevates the experience and makes it more of an event. Setting up a built-in grilling space with counters eliminates the need for those pesky trips in and out of the house and keeps the cook near the guest for easy entertaining. You could also set up an outdoor entertainment center with a TV and fill the space with plenty of patio furniture to encourage even your most introverted friends to join the gathering and enjoy the latest sports game or reality show everyone's hooked on.
On the other hand, if you already have a fire pit, this is your chance to multipurpose it! Add a grill to your fire pit for a fun evening surrounded by the smoke and the smell of your favorite

Enjoy Dinner and a Sunset
If you're building your outdoor entertainment area intending to spend more time outside with your loved ones, build a dining area. Table, chairs, the whole shebang. The great thing about dinner is that it can be a super casual, every night event with your immediate family or you can host a fancy dinner party and invite all of your friends, so it's a great area to spend money on if you're worried about getting your money's worth of use out of your new patio space. An even better perk: you get to watch the sunset as you end your day with good food and good company.
Play Lawn Games
Sometimes you don't want to relax; sometimes you want to demolish your guests in a game of cornhole. Lawn games are one of the best outdoor entertaining ideas because they're a fun way to gather people together and bond over your competitiveness. Cornhole, giant Jenga, ring toss, and Kan Jam are just a few games bound to get your guests laughing. Or simply let your yard do the work for you—a big open space to play mini-golf, badminton, or a childhood favorite of flashlight tag can bring joy to any party.
Don't skip out on the water games either! Sprinklers, water balloons, and slip n' slides are must-haves—especially for entertaining kids while the adults are talking.
Lounge on Fun Furniture
Our best tip if you want your guests to come over is to spend some time gathering fun and unique furniture. A simple patio set with a sofa and chairs is always a good choice when entertaining, but if you have hanging chairs, aerial silks, hammocks, or a swinging bed, people are going to be desperate to come over and hang out.
A successful gathering is about more than just company and the conversation, it's also about comfort and amenity. If you're going to be spending an entire day, or evening, in your backyard, it's important your guests feel as content outside as they would inside. That's why we stress good furniture and mood lighting in most ideas we've listed.
These are just a few outdoor living space ideas that we hope can give you some inspiration to transform your backyard and deck. Your outdoor living area is just as important as your living room and you should treat it as such. Investing in it is essential for entertaining guests and, nmatter who you have over, your space should be incredibly versatile. Whether you're inviting your co-workers over for drinks or you're partying with your college friends, the best patio caters to everyone.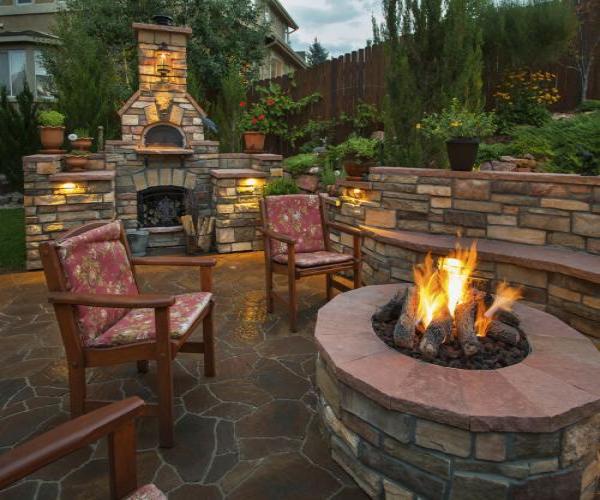 Camp Under the Stars
Backyard camping with access to indoor plumbing is maybe the very best way to camp. Pitch a few tents, a communal yurt, or a canvas teepee and invite your loved ones for a few nights under the stars. You can illuminate the space with string lights, lanterns, or even tiki torches. You can stay up all night and tell spooky stories, gather around your firepit for meals, and enjoy the fresh outdoor air. We all need an escape from our everyday lives, even if that escape is just to our backyard, but we can guarantee you'll go back indoors feeling refreshed, energized, and renewed after spending even one night in an outdoor camping space. Once your backyard camping experience is over, you can repurpose your tents into a permanent shaded, cozy reading or relaxation space for when you need just a couple of hours to unwind. Completely cover the area in pillows, rugs, and blankets for an indoor-outdoor leisurely getaway space.
Watch Movies Outdoors
Movies are just better when they're on a big screen, and we don't mean at the movie theater. They're even better outside, surrounded by mood lighting, lounge deck furniture, and your friends. Use a white sheet or install a projector screen for those perfect backyard movie nights. Blankets are essential for optimal coziness, but you can install a patio heater for the cooler evenings. The best thing about having an outdoor movie theater is that they're so versatile – entertain your friends with the latest blockbuster or enjoy a romantic evening with the newest Rom-Com. There's always something for everyone no matter who you're with, making them the perfect entertainment choice. We recommend having an outdoor bar – built-in or freestanding – to get easy-to-grab snacks that won't interrupt the film and good furniture that's easy to lounge and get comfortable in.
Entertain At An Outdoor Bar
Speaking of outdoor bars, if you're building an entertaining area, it's an essential item to have. You can fill your bar area with snacks and cool drinks for those long, hot days outside or even a place to make your morning coffee and enjoy the fresh air and sunrise before you start your day. They're also a great place to entertain if you line them with barstools. Wow your guests with mixed drinks or use it as a place to just sit and hang out under the shade. It's an ideal situation to serve drinks and food from when you're hosting a big event.