How To Prepare Your Fence For Winter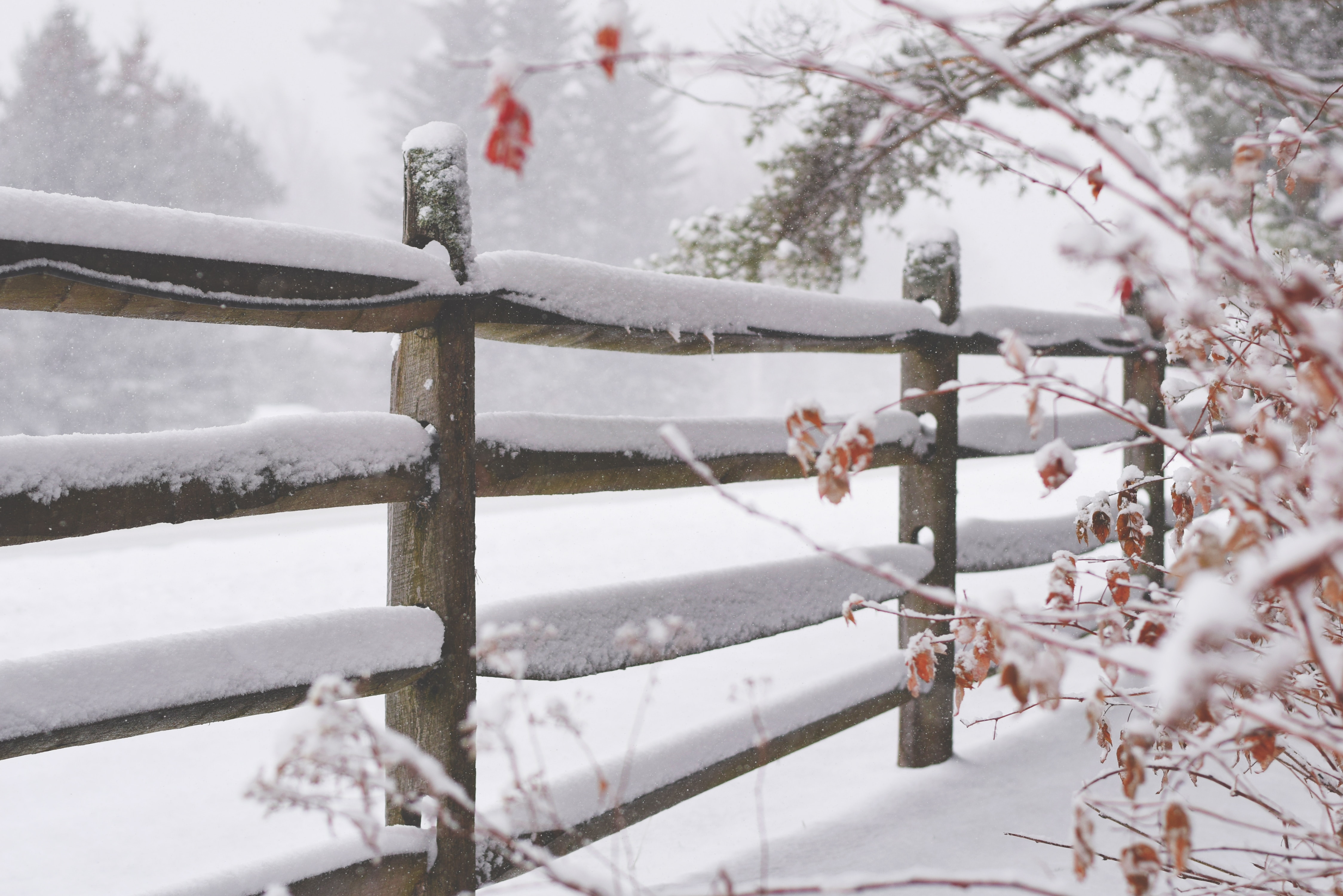 Winter weather is a fact of life and the snow and cold aren't just uncomfortable for you, they can have negative effects on your fence as well! There are steps you can take to minimize or in some cases negate the effects of winter weather on your fencing...as with most fence topics the solution varies according to what the fence is made of, so we'll be breaking down our tips by type.
Wooden Fences
While some types of wood resist moisture better than others, a wet wooden fence is a recipe for disaster, particularly when the moisture lingers as it would after a big snowfall. What you want to do is give your wooden fence a maintenance check before the white stuff comes down. Check it for water resistance by splashing water on the fence and seeing if it beads up or soaks in. If the water doesn't bead its time to stain of seal the wood. Look for signs of damage by insects. Things like tunnels with sawdust. Also look out for softwood or any rot issues. You can use putty to repair small holes or cracks and replace any boards that are too damaged to repair.
Vinyl Fences
:The great thing about vinyl is it doesn't need to be sealed or painted but that doesn't mean it's snow proof. The big risk to vinyl fencing is sagging, warping, or cracking as a result of ice and snow. Try to keep snow off of the fence by shoveling or sweeping it away from the fence line, so it doesn't drift and pile up along the fence itself. Use a broom to dust off the fence and any holiday decorations that may be hanging on it. Beware of snowblowers and plows....again the big risk to the vinyl is piling up snow on it, if that can be avoided they should be pretty low maintenance.
Metal Fences
Metal fences aren't concerned with moisture damage but like vinyl they can be damaged by large amounts of snow. Usually though rather than snow damage being caused by snow piling up, the culprit here is the weight of the snow causing soil or gravel to shift making the fence less stable and secure. This is a case of the bulk of the maintenance being a part of the initial installation. The cement footings for the fence are extremely important. If the footings are installed when the weather is below freezing, the cement will not set properly causing issues later on. It's a good idea to keep a check on the footings throughout the winter. You should also keep trees and bushes trimmed to avoid limbs falling from the weight of the snow, and if possible keep bushes and trees away from fence footings to avoid damage from the roots expanding toward the footings.
A little preventive maintenance can go a long way to making sure your fence is in great shape for years to come!